Each object page in Device42 has a default column list which includes object details such as their ID, name, customer, last updated time. There may be use cases where there is more data visible than necessary, or that not enough data is visible. The object column lists can be configured to have a custom order and selection of columns.
There are two separate ways to access the column list editor but once it is open the options are the same.
Method 1 - Navigate to the object page where you would like a new column list and select the dropdown on the top right: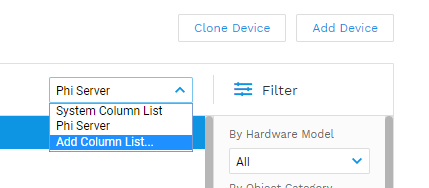 Clicking on "Add Column List" will bring a popup window with the editing options.
Method 2 - Navigate to Tools > Column Lists and click on "Add Column List" on the top right of the page:
There are only a couple of fields available to edit for a custom column list. The name is what will be displayed in the column list dropdown. You can give it a name to associate it with a user who will be viewing the list or a function such as (IP with timestamps).
The Object Category dropdown is used to select what page this column list appears on. Please note that there are several different device pages such as All Devices, Physical Devices, Virtual Devices, etc. The column list and options will vary based on the object being used.
Add Another Selected Column will allow you to being displaying the columns. You can click on this link to add as many columns are needed:

The column list can be edited in the future if you need to reorganize the order or add/remove any columns. Save the page when finished and navigate to the object to select the updated list. The selected column list will remain for the user until another list is selected.